We all use the Internet every hour, so for those users, who don't want to waste time on useless content or annoying ads, we prepared an auto scrolling app in the article below.
And to say goodbye to annoying ads forever, you can use an ad blocker app.
This app is famous for its auto click and auto scroll functions. This application allows users to experience the Internet by clicking automatically on web pages; however, they should avoid repeated clicks.
In addition, users can quickly scroll through web pages to view more required information and set the automatic scrolling speed, as it is convenient for them.
Auto Clicker is suitable for auto-read mode on web pages such as news and social networks.
As for the premium subscription, it includes a lot of extra features. The price and term depends on the plan chosen, there are weekly, monthly, semi-annual and annual subscriptions.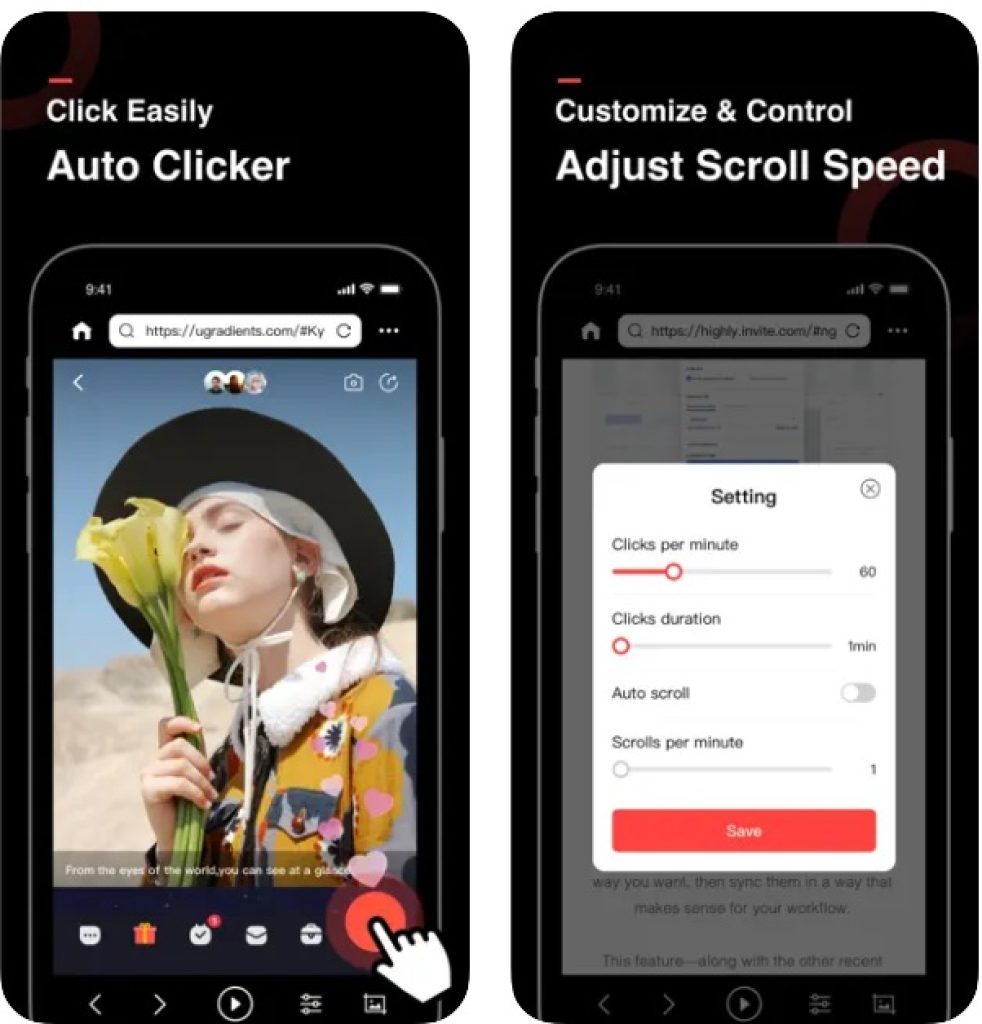 You may also like: 11 Best document scanner apps for Android
This app is a useful tool for websites. First, the Auto Scroll app blocks ads so users don't get stressed. Customers can read books, watch different websites without worrying about scrolling pages because of the auto scroll feature.
In addition, the application includes a speed test that allows users to determine Internet speed in one click. The Auto Scroll App design is simple but at the same time user friendly.
We were able to get a premium version which unlocks a lot of extra features. Prices vary and depend on the premium subscription plan chosen.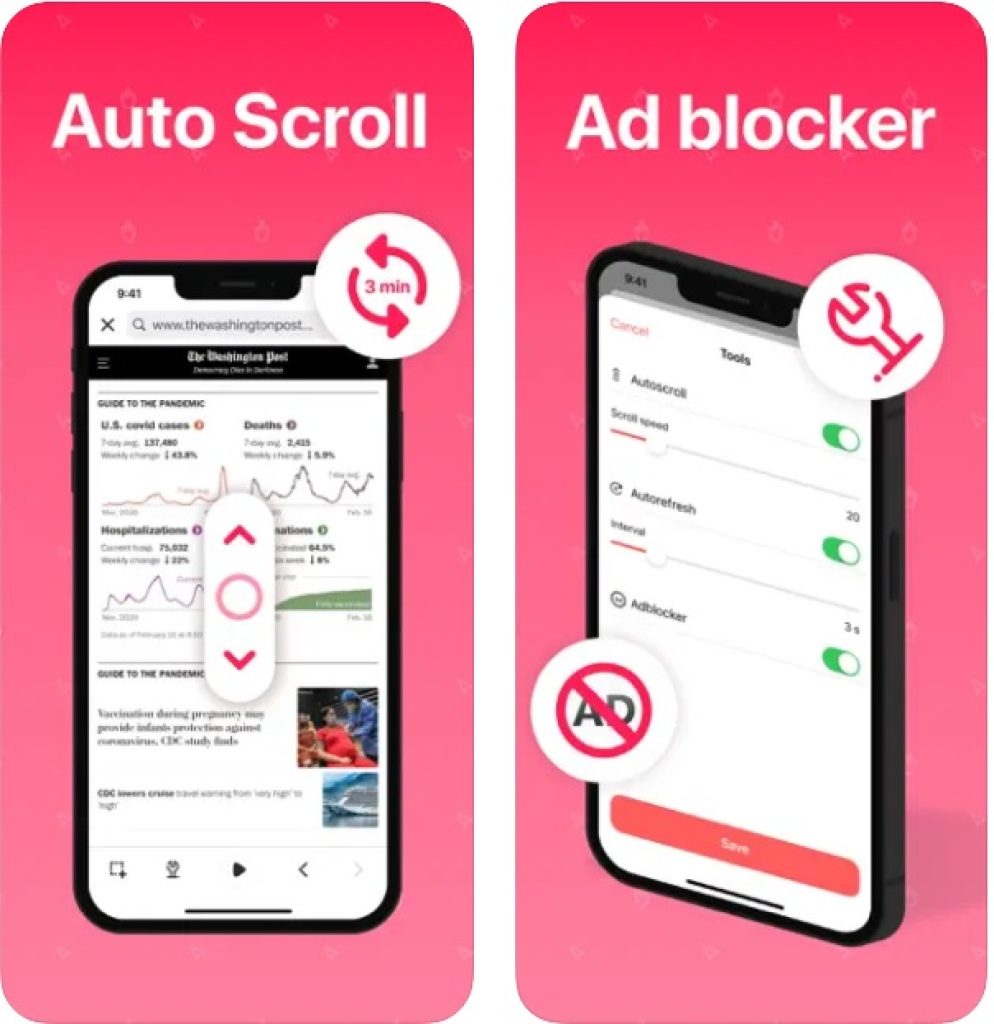 Auto Clicker for games
This app is for users to save their time. It can be used on various sites like social media, news, games or novels. Auto Clicker supports single and double clicks, which is convenient for, for example, certain games. User can set parameters for click. For example, duration and number of repetitions.
Its main feature is auto scroll which allows users to read and sit on web pages without worrying about scrolling because the app does it on its own.
In addition, there is an auto refresh of the web page so that the user's fingers can rest for a while. When customers use the application, their configuration and personal information is stored.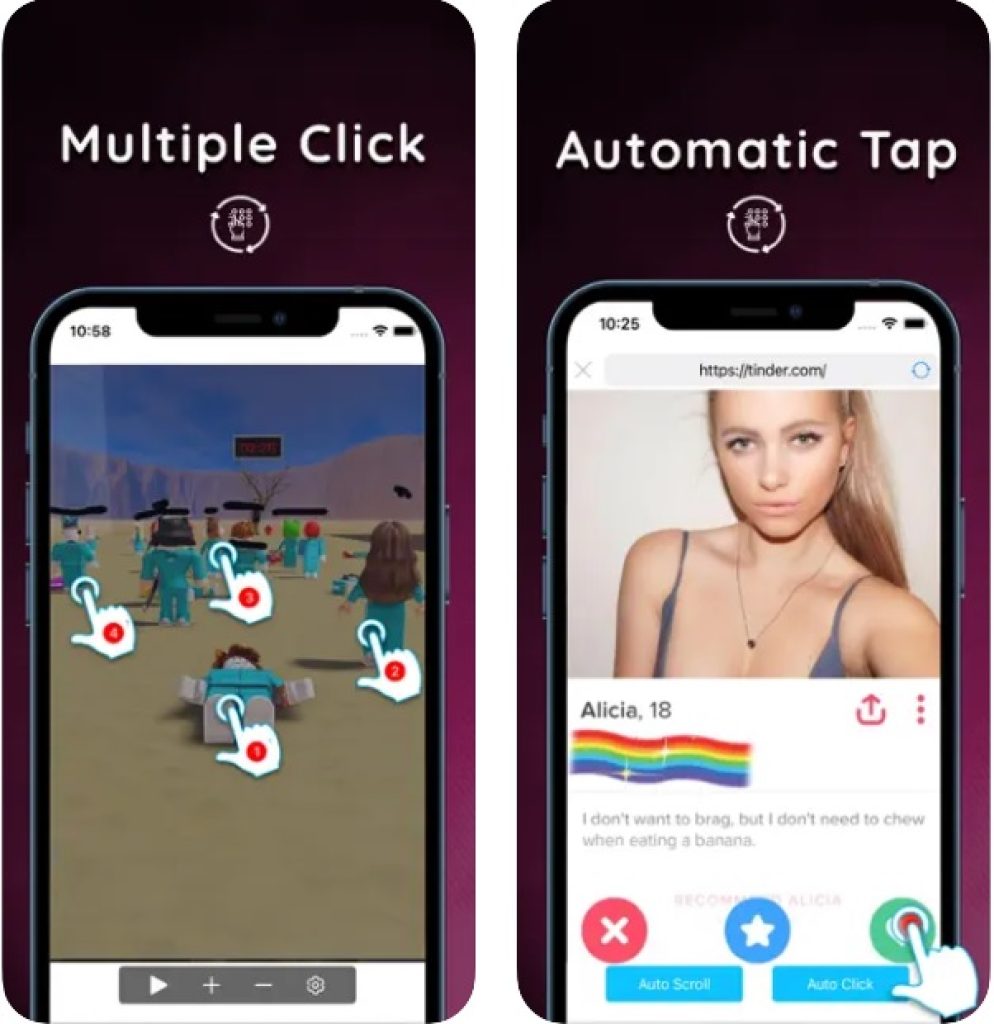 This app allows users to scroll through web pages and information automatically with one simple click on the widget. Users can return to the top page or scroll to the page below.
This is especially useful for people with physical disabilities and muscle fatigue as the app scrolls the web page in all directions and keeps scrolling until someone doesn't touch the screen.
Application features can be used with other applications and can be enabled or disabled. Users can choose on which sites or social media the application will work. AutoScroll is simple and easy to use but not contemporary at all.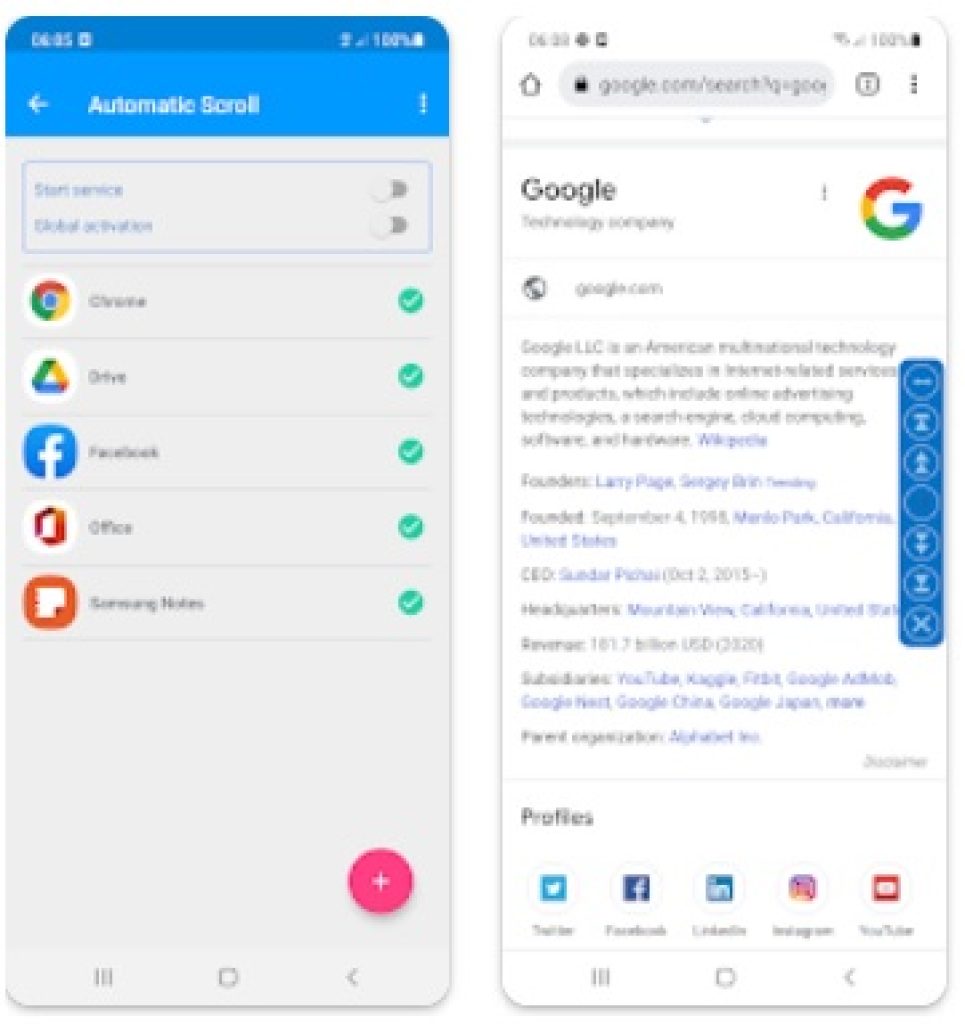 Smart Scroll is an assistant that helps users use web pages more conveniently. It is suitable for everyone especially for those who have some physical problems.
All users need to do is install Small Scroll, select the app on their phone and specify the scroll direction, then click the Start button.
Apart from that, users can set the scroll speed for free. After that they can watch websites, social media or read text with auto scroll.
To stop scrolling, users need to click on an empty spot on their device and it will stop scrolling on its own. The Smart Scroll design is easy to use and contemporary.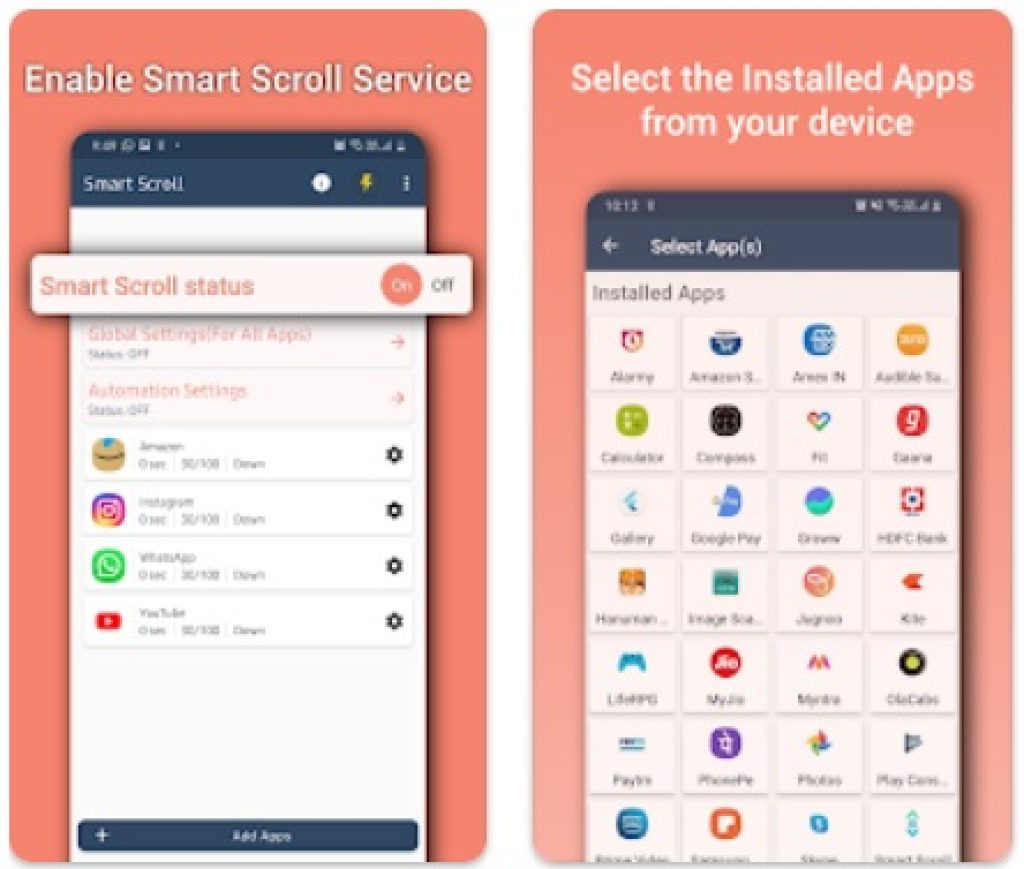 If a person wants to rest his thumb from scrolling the screen, he needs to submit an application. First of all, this program can be used while watching social media like Instagram, Facebook, TikTok, while shopping on the Internet or reading some ebooks, while reading various articles and news.
All one needs to do is set up Auto Screen Scroll, select the apps that need to be scrolled and use them happily.
Auto Screen Scroll Features:
User can go back to the top page or down to the bottom page in one click
Scrolling vertically and horizontally
Availability to set themes for buttons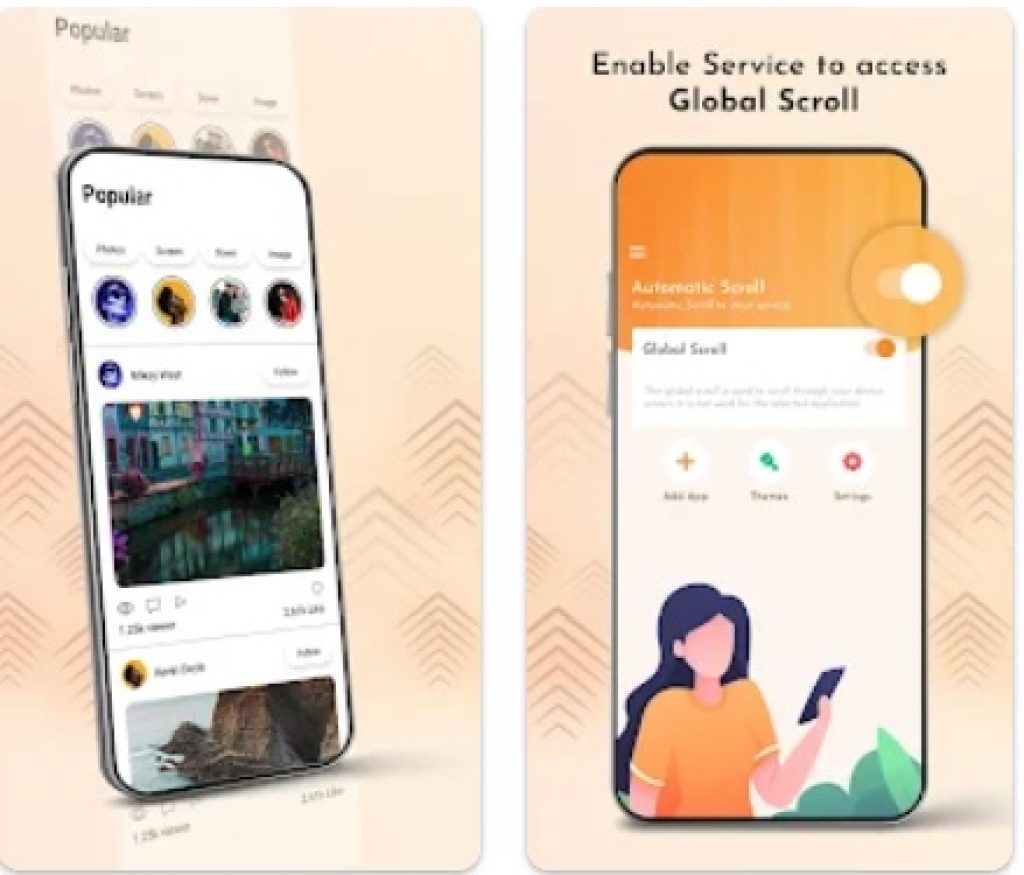 You may also like: 8 Best 3D Scanner Apps for Android & iOS
Despite the fact that the above-mentioned applications can be used all over the Internet, they are based on scrolling only in PDF files. This app allows users to easily read books or articles in PDF with auto scrolling.
We all recognize this app, but few people know that it has some amazing and useful features. For example, users can set the scrolling speed or they can put all the PDF files in one place.
Moreover, there is a night mode which helps protect people's eyes at night. Users just need to press a button, and the page scrolls automatically.

To provide users with fluency in reading, developers are finding apps that help scroll pages automatically while reading.
This application can be used in a web browser or a special application to read, for example, PDF files. All the user has to do is just install the app, and press the button, they have the opportunity to scroll down horizontally and vertically.
In addition, customers can control the scrolling speed using the settings in the app. Easy-to-read Automatic Scrolling is conveniently designed and developed to make reading more interesting.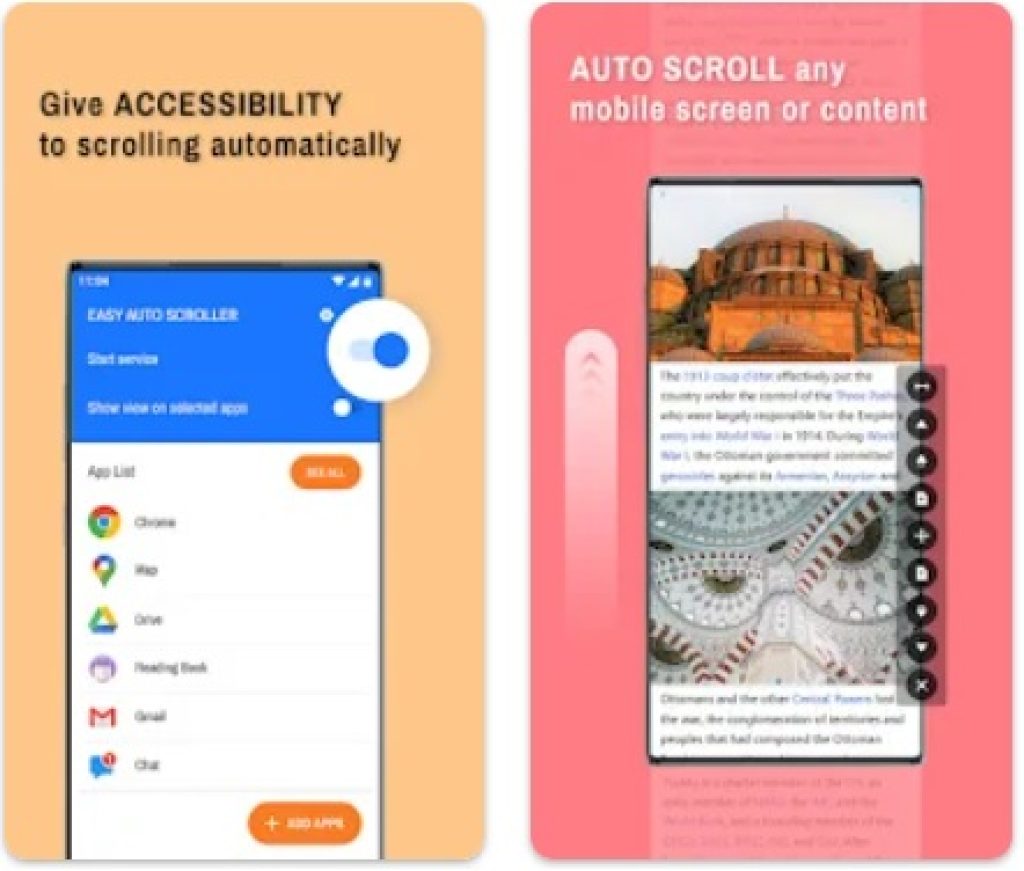 This application is also intended for reading books, articles or news. The crawler can be used not only in reading apps, but also in apps like Pinterest, which is very convenient.
This app has several buttons that appear on the screen:
Click for vertical or horizontal menu
Scroll up
Continue scrolling the page up
Scroll the short page up
Menu
Scroll down the short page
Continue scrolling the page down
Scroll down
Cancel
This app is designed and developed in a simple and minimalistic way for people's convenience. However, its main drawback is the large number of ads that interfere with reading.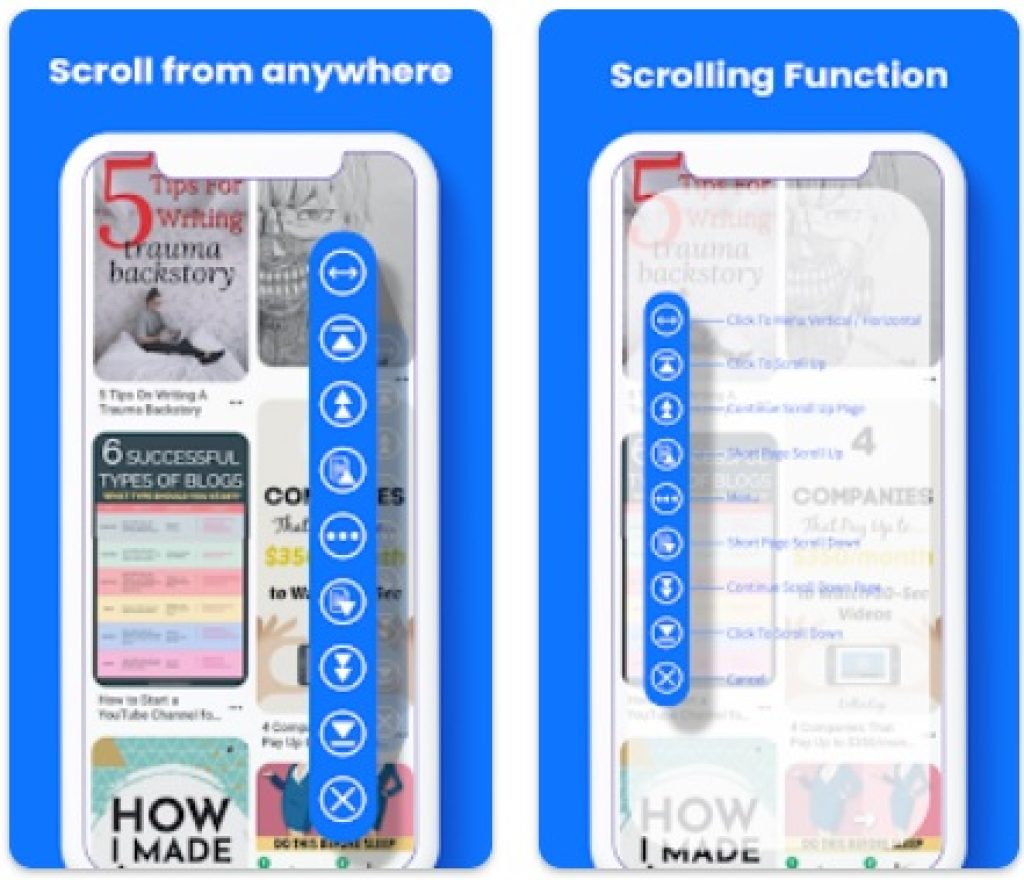 Tap Auto Clicker for TikTok
Nowadays TikTok is such a popular app, people are sitting on the app for hours on end. Auto Clicker Tap is made to facilitate people's lives. This application provides the opportunity to make a planned emphasis or scroll the page automatically. User can set scrolling intensity.
Feature:
One-click, multiple-click availability and auto-scroll pages
The application design is designed to be simple and easy to use
Availability of automatic updates
With the help of Auto Clicker Tap, people will love to watch TikTok.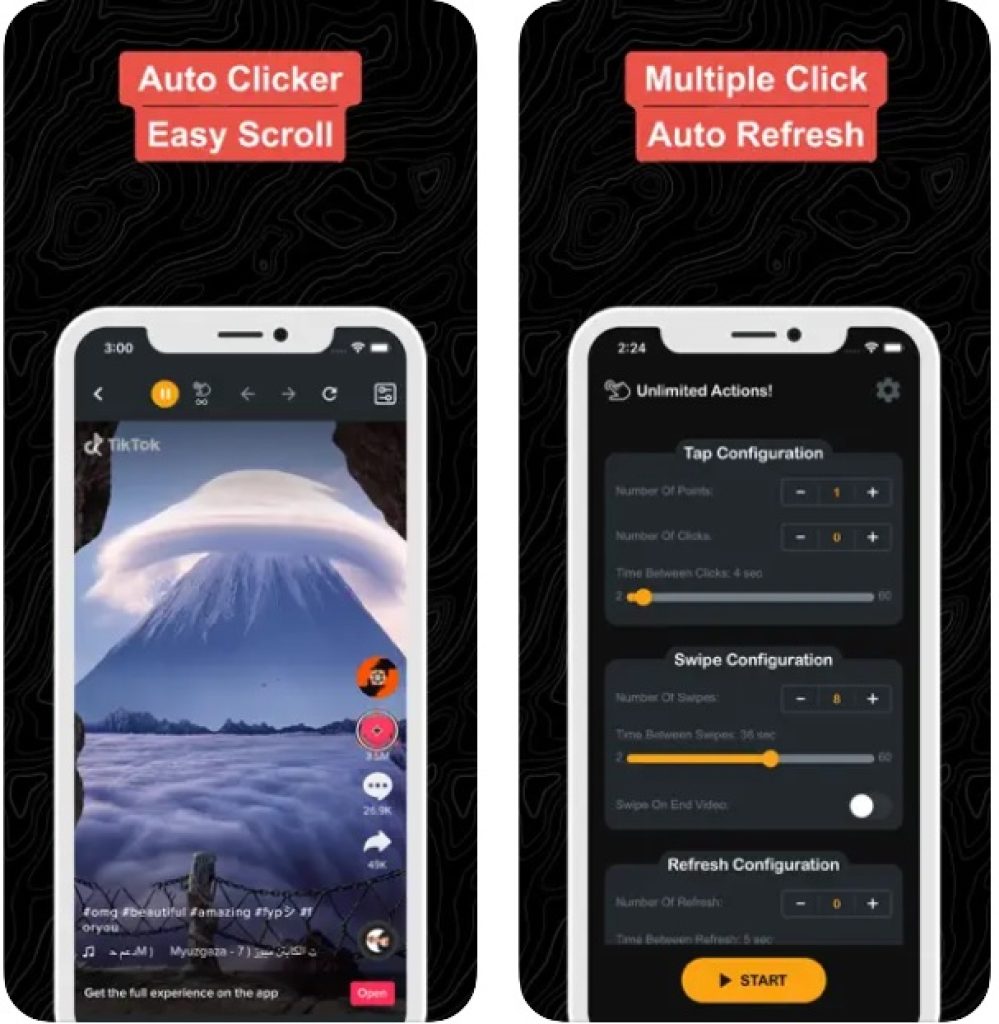 You may also like: 15 Free Apps To Read Comics Online for Android & iOS
I2Reader Cloud
This app helps to read ebooks and articles comfortably. The main function of interest to us is scrolling the page automatically. Users can change the scrolling speed for themselves
There are many different features:
Brightness modification with two-finger vertical swipe
Read ebooks by voice
View reading statistics
Automatic scrolling: vertical or horizontal with adjustable speed
Large selection of ebooks
Different dictionary support
Availability to share excerpts from books with the user's friends
Complete information about the book
With the help of the app, people can read fluently and enjoy it. In my opinion, I2Reader Cloud is the best application of all the above mentioned before applications.